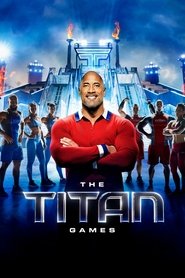 Título no Brasil: The Titan Games – 1ª Temporada Completa
Título Original: The Titan Games – S01
Ano de Lançamento: 2019
Qualidade do Vídeo: WEB-DL (.mkv)
Codec Video: x264
Codec Áudio: AC3/AC3
Áudio: Português / Inglês
Legenda: Português
Resolução: 1280×720
Tamanho do Arquivo: 12.82 GB
The Titan Games  Reality-TV | 1h | TV Series (2019– )
7.4
Writers:
Dwayne Johnson
Stars: Cari Champion, Ben Afuvai, Dwayne Johnson
Summary:
Dwayne Johnson presents and stars in "The Titan Games," a groundbreaking new athletic competition based on Dwayne's belief that within each and every one of us is the potential for greatness.
Photos
See all photos >>
---
Videos
See all videos >>
---
Cast
...
 Herself - Host 10 episodes, 2019
...
 Himself 8 episodes, 2019
See full cast >>
---
Countries: USA
Languages: English